All was not truly quiet. Although no classic fatal school shooting outbreaks occurred during 2008's red zone temporal window at North American schools and universities, other events did transpire. The following is a summary of various incidents.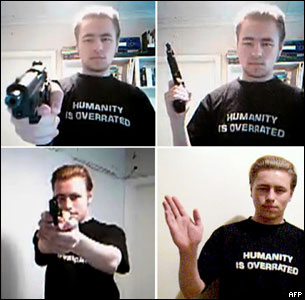 History Revisited
The media published several articles reviewing the Virginia Tech shootings of April 16, 2007. A bit less so, mentions were made of the shootings at Columbine, in which 15 people were killed, on April 20, 1999.
Several news items detailed the public sections of the final report released April 17, 2008, about Finnish school shooter Pekka-Eric Auvinen, seen above from a video he posted online.
Auvinen shot and killed eight people and himself at a Jokela, Finland school, in November 2007. In copycat fashion, he planned the attack for months, wanting to create "massive destruction and chaos," police said.
Among Auvinen's ten Web contacts was U.S. teenager Dillon Cossey, who was sentenced last year to up to seven years in a juvenile facility after admitting he had a plan to attack his school near Philadelphia. The two teens communicated online about the 1999 Columbine school massacre in Colorado, and exchanged videos they found on the Internet.
The Excel Institute Incident
On April 28, 2008, Wesley Johnson, a 27-year-old auto mechanics student, was charged with two counts of assault with intent to kill, two counts of carjacking and assault on a police officer after opening fire at a vocational school, the Excel Institute, in Washington D.C. He had been a former student of the school.
Witnesses said the gunman -- wearing a black suit and a fedora -- walked through the Excel campus in the 2800 block of V Street and spoke to some students before going into a building and suddenly opening fire. A male student was the first hit. Teacher Curtis Hochman found himself in the crosshairs next. The gunman pointed the pistol at Hochman's head and pulled the trigger. But it jammed, sparing the teacher's life. A woman outside the school, a visitor, became the next victim. She was shot in the shoulder as the gunman walked out. Both victims are expected to survive.
Police said the gunman carjacked two vehicles as he fled. One carjacked vehicle hit a police cruiser and another car, injuring an officer and a pregnant woman. Officers then caught the suspect and arrested him.
Police searched Johnson's Fort Washington, Md., home Tuesday night, April 28th. Sources said they found ammunition and writings on the wall about Judgment Day.
Other 2008 Incidents
Several other threats and arrests did occur around the anniversaries of Columbine and VA Tech. But it appears students, parents, educators, and law enforcement personnel worked together to prevent any major incidents in 2008.
Here are a few examples:
In February 2008, 64-year-old Joe Parks, who has taught education at Fresno State for 10 years, allegedly said he would cause a school shooting of his own. California State University, Fresno is investigating allegations by two students that this tenured professor threatened to bring a gun to class and start shooting. The school has suspended Parks. A student said in a police report that during a discussion of a school shooting, Parks said he wished he could bring his gun to class and "shoot all of you." Parks denies making that statement during a teacher-preparation class in February, but concedes that he tends to be controversial in his remarks.
A 15-year-old Springboro girl Springboro (Ohio) High School officials accused of saying on April 17, 2008, "I feel like shooting all the jocks and hanging all the preps" has been transferred to Kettering Youth Services. The girl was transferred on Tuesday, April 22, according to court records, a day before juvenile authorities in Warren County were scheduled to reconsider her detention. Officials said she uttered the threat in the cafeteria April 17 at Springboro High School. On April 17, the school district issued a statement, assuring parents and students that school would be safe the next day.
Students were sent home early Thursday, April 17, 2008, from a high school in Hacienda Heights, California, and the school was closed Friday, April 18, due to rumors of a school shooting planned there.
Los Angeles police arrested on Friday, April 18, a high school student who posted warnings of a school shooting to happen at Glen A. Wilson High School in Hacienda Heights of Los Angeles, prompting authorities to close the school. The incident began Wednesday evening, April 16, when Los Angeles County sheriff's officials notified Hacienda La Puente Unified School District police that a threat against students at Wilson High had been posted on the district's Wikipedia entry. The entry read: "This is a warning. Do not remove this from this page. On Friday, April 18, 2008, there will be a shooting at this school. Current list of victims to be shot on this day: . . ." The student was arrested.
An unidentified South Bend, Indiana, teen was arrested April 19, 2008, after a school officer investigating an unrelated threat at Penn High School (near South Bend) discovered Internet postings in which the teen allegedly discussed his support for the Columbine attack. Authorities said the boy and an Ohio man exchanged e-mails and discussed mass murders at Penn High and another location. Early in May 2008, Lee Billi, 33, of the Cleveland suburb of Lakewood pleaded not guilty to conspiracy to commit murder.
Columbine-style shootings were threatened in graffiti at Prairie High School, Vancouver, Washington, on April 21, 2008. All was calm as the day passed.
A Hyde Park, Ohio, man was credited with stopping a potential school shooting in Canada. On Monday, April 21, 2008, the 20-year-old who wishes to only identify himself as Jason found a website with a posting that contained a threatening message that included a picture of a mask with two guns and ammunition. With the anniversary of Columbine on his mind, Jason notified Cincinnati Police. It turns out the threat was against one of Montreal's Vieux Montreal college. As a result, officers shut down all classes and activities for the day. Back in 2006, a gunman opened fire on students at a Montreal's Dawson College, killing one and injuring 20. Through investigative work, Montreal police tracked down a 16-year-old suspect who had ammunition inside his home; he is in custody and faces charges.
Parents were notified Tuesday, April 22, 2008, that their child was on a hit list, after it was uncovered at Hayfield Secondary School in Fairfax County, Virginia. Fairfax County School officials did not say how many kids were on the list and what, if any, disciplinary action was taken, as the list maker was identified by authorities. No injuries occurred.
On April 24, 2008, a 14 year old boy was arrested for sending e-mails to a female classmate that threatened a shooting at West Valley Junior High in Yakima, Washington State. According to police, the boy claimed he was going to bring a gun to school on April 25. However, the boy stayed home from school and police said they do not believe he posed a threat to the girl or any of his classmates. The boy is being charged with felony harrassment and is being held at the Yakima County Juvenile Detention Center.
In Alabama, around this time, a Floyd County parent contacted the police department about a school shooting threat against Coosa Middle School. One subject told police the suspect said he wanted to re-enact Columbine. Police went to the home of the suspect and conducted a consent search of the residence and found several articles associated with the Columbine shooting that had been printed off of the internet. The juvenile was arrested, and in early May 2008, was at the Youth Detention Center in Rome.
On May 9, 2008, a threatened Minico High School, Rupert, Idaho, school shooting event never happened, and the Minidoka County Sheriff's Office arrested the student who made the threat. The sheriff monitored the school because the student allegedly had threatened a massive school shooting.