Mark Levy, 47, a prominent D.C. attorney, former member of President Bill Clinton's administration and current chair of Kilpatrick Stockton LLP's Supreme Court and Appellate Advocacy practice, died by suicide, on April 30, 2009, in his firm's D.C. office.

Mark Levy
D.C. Police spokeswoman Helen Andrews reported that officers were called to a Washington office building where the firm is located early last Thursday morning for the report of a shooting. She says investigators believe a man had taken his own life.
His death was an apparent suicide, according to the
Legal Times
, citing several lawyers at the firm. The incident -- reportedly a self-inflicted gunshot wound to the head -- occurred on the 11th floor of 607 14th St. NW. Levy was discovered by a co-worker at about 8:00 a.m. in his 11th-floor office. He evidently left a note at his home saying he loved his family and instructing his wife on how to handle family finances; the attorney's 20-year-old son (sadly) found the note and called police.
The news comes one day after the firm laid off two dozen lawyers, including Levy, due to the troubled economy, reported
The Fulton County Daily Report
and
The Washington Post
.
"With sadness we confirm that Kilpatrick Stockton attorney Mark Levy died this morning. Mark Levy was well known and highly respected for his successful appearances before the Supreme Court of the United States," said Bill Dorris, co-managing partner, Kilpatrick Stockton, in a statement on Thursday. "We offer our deepest condolences to his family, friends and colleagues. Out of respect for his family, we cannot offer additional comments at this time."
Levy had been a member of the Clinton administration where he served as deputy assistant attorney general in the Department of Justice's civil division between 1993 and 1995 and served five years in the Solicitor General's office.
After a stint in the Solicitor General's office, Levy joined Mayer Brown, where he was a partner. In recent years, he had argued 16 cases in front of the U.S. Supreme Court, according to the firm's Web site.
Levy attended Yale University's law school with former President Bill Clinton and Secretary of State Hillary Clinton and more recently worked on fundraising for Hillary Clinton's presidential campaign, said Dennis Gingold, an attorney who was working with Levy on a case.
He was a fellow of the American Academy of Appellate Lawyers and an appellate columnist for
National Law Journal
. Last month Levy was named a 2009 D.C. Super Lawyers -- a recognition given to attorneys that attain a high degree of peer recognition and professional achievement.
Kilpatrick Stockton was formed in the 1997 merger of Kilpatrick & Cody, founded in 1874 in Atlanta, and Petree Stockton, founded in 1918 in Winston-Salem, North Carolina. It has about 500 attorneys in ten offices around the world. Levy worked out of the D.C. office.
The death comes after the chief financial officer of mortgage giant Freddie Mac killed himself earlier in the month. David Kellermann was found dead by hanging, April 22, 2009, in the basement of his northern Virginia home. Colleagues had noticed he was under stress and had suggested he take time off.
Other recent suicides, high-profile ones, are not going unnoticed by the media.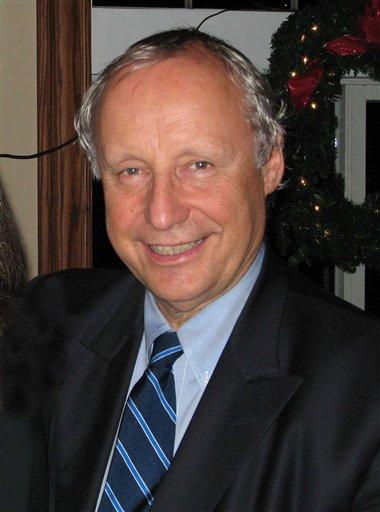 Financier Rene-Thierry Magon de la Villehuchet is shown on Nov. 30, 2007. De la Villehuchet, who lost more than $1 billion of his clients' money to Bernard Madoff was discovered dead Tuesday, December 23, 2008 after dying by suicide at his Manhattan office. (AP Photo/Sipa Press, Guy Gurney)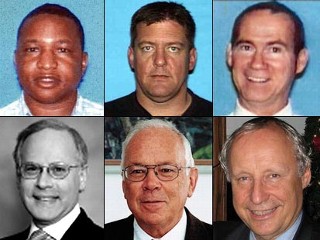 Mark Levy's image, lower left hand corner, has been added to ABC News' gallery of "econo-cide" members.
ABC News
uses
the Levy suicide as a kick-off to a long discussion on what they are calling "econo-cides," self-inflicted deaths linked to job losses, evictions, and the recession. They include murder-suicides and suicides in the growing "celebrity deaths" tally.
Other sources,
here
and
here
.
Thank you.