Emergency crews in Austin, Texas, responded to a explosion Sunday night, March 18, 2018, which happened in the southwest part of the city. Austin Police said two men were transported to the hospital with serious injuries, but they are not expected to be life-threatening.
The explosion occurred in the 4800 block of Dawn Song Drive. (Dawn = Aurora.) First reported to be at 4721 Eagle Feather Drive (but that was incorrect).

Device may have been by the side of a road, set off by a trip wire. Victims appear to be on or pushing bikes.

One man is reported to have nails in his leg.
The latest blast occurred around 8:30 p.m. Sunday, March 18, 2018, in a suburban neighborhood known as Travis Country in southwest Austin — far from the previous three that were all in residential areas in the eastern part of the city — and investigators didn't immediately confirm what caused it. But Austin Police Chief Brian Manley repeated previously issued warnings for residents not to touch any unexpected packages left at their homes.

Two men in their 20s were hurt in the latest blast. Police said they were hospitalized with injuries that weren't life-threatening. They are said to be white, Caucasian, and thus, temporarily undermining the theory the previous three bombings were racially motivated.
Sunday, March 18, 2018, is the final day of the South By Southwest music festival, which draws hundreds of thousands to Austin every March. It is also the end of spring break for many area school districts, meaning families who were out of town in recent days are returning to a city increasingly on edge.
The explosions occurred far from the main South By Southwest activities, though a downtown concert by hip-hop band The Roots was canceled Saturday night after a bomb threat. Authorities later arrested a 26-year-old man, and the incident did not appear to be related to any previous explosions.
Bombings #1, #2, and #3
It was the fourth explosion to rock Austin in less than three weeks.
The first was a package bomb that exploded at a northeast Austin home on Haverford Drive, on March 2, 2018, killing a 39-year-old man. Two more package bombs then exploded farther south on March 12, killing a 17-year-old, wounding his mother and injuring a 75-year-old woman.
Police said all three of those were likely related and involved packages that had not been mailed or delivered by private carrier but left overnight on doorsteps. Austin police originally suggested they could have been hate crimes since all the victims were black or Hispanic, but now investigators aren't ruling out any possible motive.
Austin's earlier explosions were in the 4800 block of Oldfort Hill Drive and in the 6700 block of Galindo Street.
The Galindo incident happened hours after police responded to
a previous package explosion
at the 4800 block of Oldfort Hill Drive, killing a teenager and injuring a woman, police have said. LaVonne Mason, co-founder of the Austin Area Urban League, told the
Post
her grandson was the 17-year-old victim killed Monday morning.
A 17-year-old victim in a series of deadly package bombs delivered to homes in Austin, Texas, has been identified as Draylen Mason, while a law enforcement source revealed the same maker may have constructed the three devices.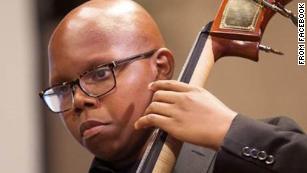 Draylen Mason.
Described by Austin's police chief as an "
outstanding young man who was going places with his life
," Mason was killed Monday morning, March 12, 2018, when a package exploded in the kitchen of his Austin home as it was being opened. His mother is in stable condition.
Three package bombs exploded at homes in the Texas capital over 10 days -- one on March 2 and two on March 12 -- killing two people and injuring two others. Investigators have said they believe the attacks are related.
In all three bombings, residents found the cardboard packages outside their houses. Two exploded as they were being handled outside, police said.
But the package that exploded indoors yielded parts that could be reconstructed, a law enforcement source told CNN on condition of anonymity. The devices were essentially pipe bombs rigged to explode upon opening, the source said.
Anthony Stephan House, the Austin bomber's first victim
The stepfather of man who died in a package explosion in Austin earlier this month knew the grandfather of one of the victims in Monday's first bombing,
according to the Washington Post
.
Fredie Dixon's stepson, Anthony Stephan House, 39, died after a package exploded at his house on March 2, 2018. Dixon told the
Post
he is good friends with Norman Mason, the grandfather of the teenager who was killed in a package explosion around 6:45 a.m. March 12, 2018, in the 4800 block of Oldfort Hill Drive.
"This is a real mystery, and how all of this mystery comes together, I have no idea," Dixon told the Post.
Source
.
A Name Game?
The names of
Mason
and
House
- and even
Oldfort Hil
l, now
Dawn Song
are all highly symbolic.
One meaning of
Galindo
, which is in essence a personal name, is "foreigner or stranger."
Sibyl Hunter adds:
"The stone the builders rejected has become the capstone" (Psalm 118:22).
The image comes from the ancient quarries where highly-trained stoneMASONs carefully chose the stones used in construction. No stone was more important than the cornerstone because the integrity of the whole structure depended on the cornerstone containing exactly the right lines. If the cornerstone was not exactly right, the entire building would be out of line. For that reason, builders inspected many stones, rejecting each one until they found the one they wanted. Rejected stones might be used in other parts of the building, but they would never become the cornerstone or the capstone (the first and last stones put in place).
"Everyone then who hears these words of mine and does them will be like a wise man who built his HOUSE on the rock. 25 And the rain fell, and the floods came, and the winds blew and beat on that house, but it did not fall, because it had been founded on the rock. 26 And everyone who hears these words of mine and does not do them will be like a foolish man who built his house on the sand. 27 And the rain fell, and the floods came, and the winds blew and beat against that house, and it fell, and great was the fall of it." (Matt 7:24-27)
The Date?
On March 18, 1314, Jacques de Molay, the 23rd and final Grand Master of the Knights Templar, is burned at the stake.
Killing at Temple Mount
Attack from Dawn Star, March 18, 2018: Lawrence passed along this news.
An Israeli security guard was killed by an assailant armed with a knife on Sunday 18th March 2018, near the entrance to Lion's Gate in Jerusalem's Old City. He was initially seriously wounded, but later died. (Source.)
The guard (Adiel Kolman, a married father of four) was from the West Bank settlement of 'Kochav Shachar'. The meaning in English is 'Dawn Star'. 'Shachar' means 'dawn' ('kochav' means 'star'). I sometimes see this place name sloppily misspelt/mispronounced in English as 'shahar' (including in that specific Jerusalem Post article, of all places. Usually the JPost gets it right), but it's 'shachar'. Sometimes 'kochav shachar' is translated as 'morning star', but it is literally 'dawn star'.

Lion's Gate in Jerusalem has its own mythic and political resonances of course. The entrance leads to the Via Dolorosa. The Wikipedia entry for Lion's Gate informs us: "Near the gate's crest are four figures of leopards, often mistaken for lions, two on the left and two on the right. They were placed there by Sultan Suleiman the Magnificent to celebrate the Ottoman defeat of the Mamluks in 1517."
Israeli paratroopers famously stormed through this gate during the Six-Day War of 1967 to conquer the Temple Mount (from Jordan), after which they unfurled the Israeli flag above the Old City.
Historian Moshe Sharon notes the similarity of the sculpted lions to similar pairs at Jisr Jindas and Qasr al-Basha in Gaza. All represent the same Sultan: Baybars. Sharon estimates that they all date to approximately 1273 C.E.